Root River Racing's Pro ATV MX Race Report
La Crosse, WI (8/4/2016) – Root River Racing's Pro riders Sam Rowe and Josh Upperman competed in the tenth round of the 2016 AMA ATV Motocross National Championship at RedBud Motocross Park in Buchanan, MI. Hoosier Racing's Sam Rowe dominated the Pro Am class, winning both motos for the overall win and taking ninth in the Pro class. Josh Upperman also put in an impressive Pro class ride taking fourth overall.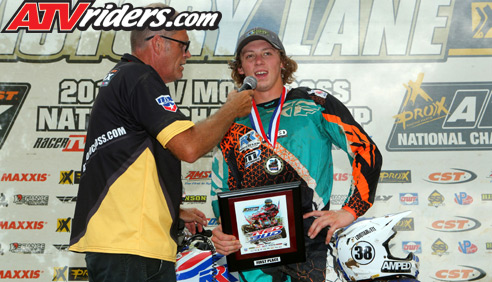 Sam Rowe captured his first Pro-Am win of the season at Red Bud MX
The highlight of Sam Rowe's weekend was his season first flawless 1-1 overall win in Pro Am. Rowe was unstoppable and laid down the fastest lap time of the class in both motos. "First moto I rocketed out of that start with my Rage motor, Hoosier tires, and my Dad with the gate prep. I pulled that start by a good bit I believe, and I put my head down and really tried to ride smooth. It was hard because it was super rough. I was pumped after that moto," explained Rowe.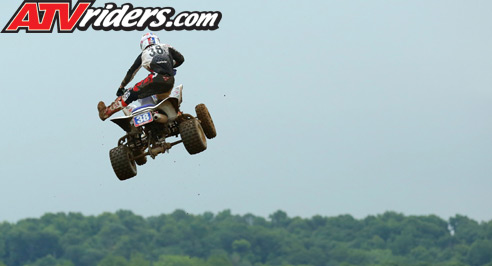 Sam Rowe kicks it sideways on his way to his flawless 1-1 moto finishes
The second moto went just as well as the first. Rowe battled his way to another moto win, but it did not come quite as easy this time. Rowe started in fourth so he had to battle through some riders and work his way up to the first place position.
"I just really work hard enough that I know I deserve this, and I am super excited to finally get the first win of the year. It has been a long time coming this year but I never gave up and we figured it out. I couldn't be more excited for how this weekend turned out," said Rowe.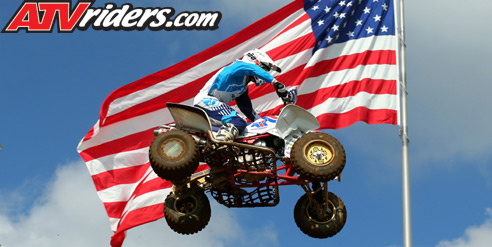 Sam Rowe finished ninth in the Pro class
In the Pro class, Rowe took a ninth place overall finish with 9-10 moto finishes. Rowe took close to top five starts each moto, and battled it out with the best ATV racers in the country. "The track was brutal, I just did what I could. Those guys are so fast out there it is unreal. I battled with David Haagsma and Nick Gennusa the second moto for a bit, and that was really cool. I am looking to break into the top five as soon as I can," stated Rowe.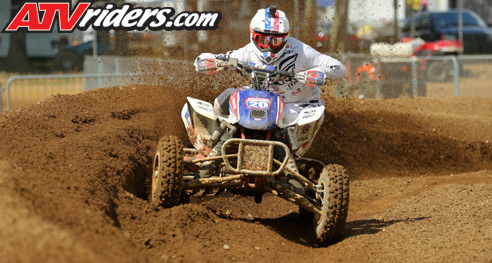 Josh Upperman finished fourth overall at RedBud
Root River Racing's Josh Upperman has been improving every round this season and took a very impressive fourth place overall Pro class finish at RedBud. Upperman stayed consistent and took fourth in both the first and second moto. In the first moto, Upperman's Root River Racing bike launched off the start and he nearly took the holeshot. "It was really close. Hetrick and I were basically side by side but he had the outside and railed it for the holeshot. The Hoosier tires hooked up great off the line and in the turns," said Upperman.
"I am really happy with how everything went this weekend it is awesome to be back up front and getting good starts. There were some good battles out there I just had to put my head down and keep charging," said Upperman.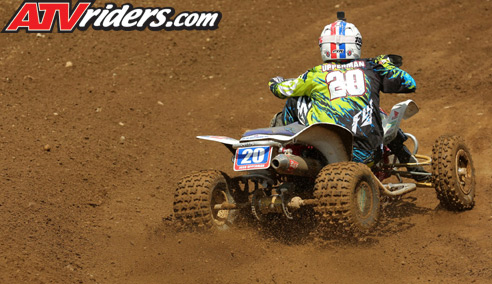 Josh Upperman kicking up a roost. Upperman currently sits 4th in Pro ATV MX Points
Upperman has really turned it up the last half of this season and is becoming very comfortable on the bike and with his team. "I really do wish the season was just getting rolling. It takes some time to get adapted to a new team and new people, but we have been on it."
Root River Racing's Sam Rowe and Josh Upperman will return to the 2016 AMA ATV Motocross National Championship series at the eleventh round. Racing will be held at Loretta Lynn's Ranch in Hurricane Mills, TN August 13-14 where the Root River Pro racers will going to battle once againJosh Upperman 2016 Sponsors:
Root River Racing, Motowoz, Fly Racing, Hinson, JB Racing, Rage ATV, DWT, Fasst company, Sunstar, Powermadd, FTR, Fourwerx, Yoshimura, Pepsi, DP Brakes, Rath, 100%, La Crescent Wine and Spirit, Streamline, PT Welding, Works Connection, RPM, Racing for Cancer, C&L Powder Coating, Trimbles Cycle Center, Rods Powersports, Severson Oil co