Race Report brought to you by WWW.ATVRIDERS.COM
Robbie Mitchell Takes First WORCS Pro ATV Win – DWT WHEELS & DWT TIRES
Beau Baron takes 2nd WORCS Pro ATV Podium
Primm, NV (10/24/2016) – Robbie Mitchell claimed his first ever WORCS Pro ATV Win at the 2016 season finale by holding off the five time champion, Beau Baron in the final lap of the race held at the Buffalo Bill's Resort and Casino. Matthew Hancock completed his ATV farewell tour with a fourth-place finish, ahead of David Flores.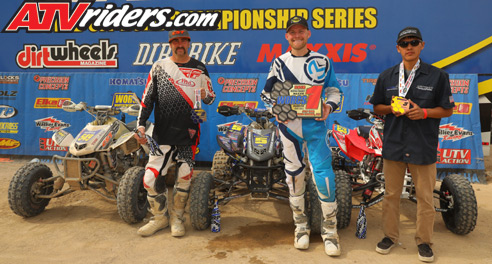 WORCS Racing Pro ATV Podium (left to right)
Beau Baron (2nd), Robbie Mitchell (1st)

Beautiful weather with temperatures in the mid 80's welcomed the ATV racers to their second visit of the year to Primm. The track, however, was much different. It was slightly shorter and was significantly rougher than earlier this season.
DWT's Robbie Mitchell took the lead on the first lap and then focused on hitting his marks. Then, two laps from the finish, Baron had Mitchell in his sights. Though he challenged Mitchell for the lead several times, Mitchell held strong and came away with the win and he finished second in points.
#5 Robbie Mitchell grabbed the holeshot
"I definitely had to pick it up the last two laps," said Mitchell. "I could see Davy coming up through the pack. I was just trying to be smart and not crash. All I tried to focus on were my lap times. The last two laps, he'd catch me out in the back and pressured me really hard. I just tried to keep my cool and focus on my lap times. I just tried to be fast and consistent."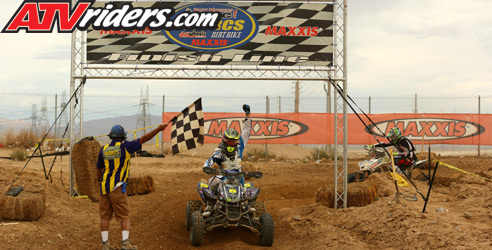 #5 Robbie Mitchell held off Beau Baron in the final lap to claim his first WORCS Pro ATV Win
CST's Beau Baron had a difficult time starting his quad at the dead engine start. He was happy to see Mitchell get the victory after challenging him at the end.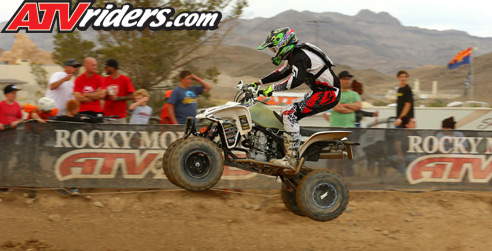 Beau Baron finished in the 2nd spot after getting off to a last place start
"I kicked my bike like it was going to start, put it in gear and it didn't move, so I kicked it a few more times, put it in neutral, shook it, kicked and finally got it going," said Baron. "By that time, I was 30 seconds behind. I knew I was going to have my hands full today trying to get to the front, and I came pretty damn close. It was a good battle, and I'm glad he won. He's been trying for a long time and it's good to see him try hard all the way through. There were a few times I pulled up beside him, but the next corner was so quick that I couldn't pass."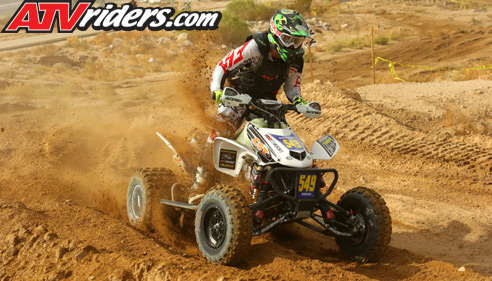 Beau Baron claimed his 5th WORCS Pro ATV Championship in 2016, which now has him tied with Doug Eichner
Pro Motorsport's Matt Hancock is retiring from running full time in WORCS ATV competition to focus on his SXS efforts. He came out here to enjoy his final ATV race and ended up with his best career WORCS ATV finish.
Pro Motorsport's Matt Hancock finished a season best 4th place in the WORCS Pro ATV Class at the season finale
"I just went out there and had fun," said Hancock. "I wasn't killing myself by any means. I just rode my own race and I capitalized on some of the guys in front of me having trouble. It was good to go out and have fun and get my best finish ever. I'll do some local series in ATVs, and I'll still race the SXS. I'm just taking a year off of WORCS ATV and try to enjoy some other aspects of racing."
---
FOR MORE GO TO  ATVRIDERS.com