Race Report brought to you by WWW.ATVRIDERS.COM
Cody & Hunter Miller Go 1-2 at Ironman GNCC –
Cody Miller Clinches UTV Championship & Takes 4×4 Pro ATV Win
Greenville, TX (10/31/2016) –  "Dominance" is a word that is thrown around a little too easily in the racing world. However, in the case of Cody and Hunter Miller, that word is truly fitting as the brothers finished off a dream inaugural season in the GNCC Series at the finale at Ironman Raceway in Crawfordsville, IN. Cody Miller won both the 4X4 Pro race and the XC1 UTV race, clinching the UTV Championship in the process. Hunter Miller stepped up the XC1 UTV class and finished second.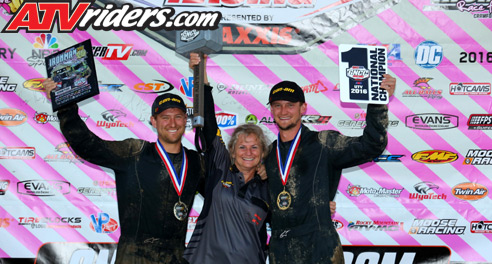 Can-Am's Cody & Hunter Miller went 1-2 in the XC1 UTV Class at the Ironman GNCC Season Finale, which allowed Cody Miller to clinch the 2016 GNCC XC1 UTV Championship

While it may have been his first season of GNCC racing, Cody Miller looked more like a veteran than a rookie. He finished on the podium of all six UTV races, winning three of them, and clinching the championship by 45 points.
In the ATV 4X4 Pro Class, he won four races, two in which he won both the ATV and UTV race in the same weekend which is a GNCC record, and finished third in points.
Cody Miller claimed his 3rd straight win in the 4×4 Pro ATV class, which boosted him to third in the points championship
Miller needed only to finish the UTV race to clinch the title. A true competitor at heart, Miller fought his way through the difficult field to win.
"I only had to finish 15th or better to wrap up this championship, but I just don't have that in me," said Miller. "This whole weekend, all I could think about was winning this race. We went out there and battled really hard. I didn't come into to first and stay there. It was a hard-fought race and was probably reckless of me to go out there and battle for the win with the championship on the line. It's a feeling like no other to come to these races and win. It's like a drug and I can't get enough of it."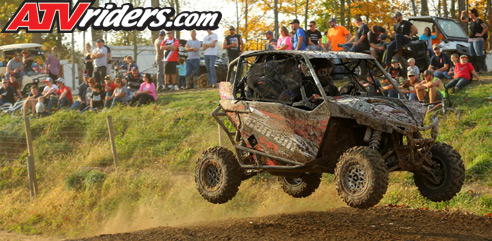 Hunter Miller claimed a season best 2nd Overall at the Ironman GNCC Season Finale

Miller led a Can-Am sweep of the podium here. He was honored by the support of Can-Am, as well as the rest of his sponsors.
"I can't say enough about Can-Am for letting us come out here and race, and Houser Racing for helping us to develop these cars," said Miller. "Elka has stood by us with the shocks that makes these things go around the corners. Maxxis Tires went above and beyond what they said they would do for us this season. DWT Wheels is a long-time sponsor of ours and we've never had an issue with them. Whenever you have a DWT wheel, you know you're not going to have a problem. S3 Powersports worked with us to get these cars beefed up to where they would handle a season of racing. HMF Exhaust and the Evolution Programmer made it so our car with a stock engine wasn't getting passed on the straightaways. Everyone else has ripped out the stock engine and built them. We're running the stock top end and with the HMF Exhaust and Evolution Programmer, and we're easily as fast as everyone else."
Hunter Miller continued his late-season charge with the runner-up slot in the XC1 race. After winning the last XC2 race, he elected to step up for the final race. Apparently, it was a good decision.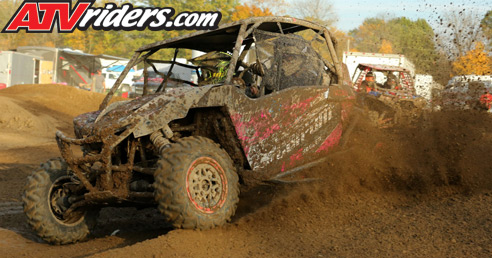 Hunter Miller claimed a season best 2nd Overall at the Ironman GNCC Season Finale
"Locally, Cody and I race and we're pretty close," said Hunter Miller. "I just wanted to try it and since I was out of the points in XC2, I went ahead and stepped up. Obviously this is more than I could ask for. I was hoping for a top five, but second is amazing. David Plavi and I were having a ridiculous battle. For the entire hour, we battled. I knew we were going pretty quick, but I had no idea we were that fast."
Hunter Miller ran a full-on pink color scheme on his Can-Am for Breast Cancer Awareness Month. He said the team's results were a perfect way to cap off the season. A true competitor in his own right, he joked about wanting the win, instead of finishing behind his brother, but he took it in stride.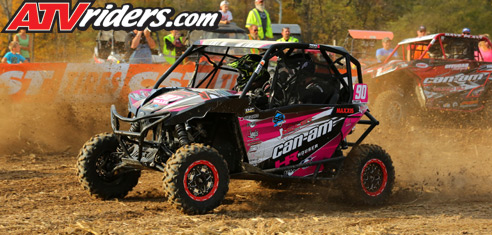 SSi Decal's Hunter Miller switched to pink graphics for Breast Cancer Awareness Month
"It's terrible," laughed Miller. "I want to win. It was good, though. He proved he was the fastest guy out there finishing on the podium in every race this year. To finish right there is amazing. I'm so happy my mom made it up here. We literally did as well as we could possibly do."
Cody Miller summed up Miller Racing's 2016 GNCC season perfectly: "Wow! What a feeling," exclaimed Miller. "It just capped off the whole weekend. What an honor and what a great way to finish off our first season in GNCC."
While plans are still in the works, the Millers hope to return to GNCC next season.
Miller Racing would like to thank their 2016 sponsors:
Can-Am, DWT Wheels, Houser, Elka Suspension, Beard seats, Louis Powersports, HMF exhaust, Evolution Powersports, Gates belts, S3 Racing, Tire Balls east, DP brakes, Factory UTV.