"We did it! Last weekend at the WORCS round in Glen Helen, CA I was able to clinch the 2016 WORCS Pro-Am championship with a 46 point lead! I can't thank all of you enough for supporting me this year.
I came into this season knowing I was prepared to train the hardest I ever have, but I didn't expect in 8 rounds to only have two races off of the podium. It makes it even more special that I won this championship exactly 10 years ago with some of the same sponsors like Yamaha, Scott Sports, & DWT Wheels.  Making the weekend even better I got two massive holeshots on the track that demands the most power of all season, and won the Production A race extending my points lead in that class to 13 points. We have one race left in Primm, NV, an event I have had bad luck at in the past, but the quads will be fully prepared and ready to win our second 2016 championship."  –  JUSTIN WATERS
---
Race Report brought to you by WWW.ATVRIDERS.COM
Justin Waters Clinches WORCS Pro-Am Championship
In Pro Am, Mexican racer Jose Meza Velez made the long trip from San Felipe, Mexico and won in his WORCS debut. Meza Velez was using the race as a tune-up for the Baja 1000. Tavis Hanes rounded out the Pro-Am Podium, and Justin Waters finished fourth and clinched the Pro-Am Championship.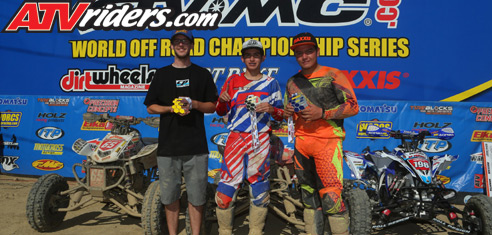 WORCS Racing Pro-Am Podium (left to right)
Travis Hanes (3rd), Jose Mesa Velez (1st), Ricardo Gonzalez (2nd)
"I race Baja and we are preparing for the Baja 1000," said Meza Velez. "It is great to win in my first race. I have to offer a big thanks to my father and my uncle for getting us here. I hope we can go to the next race. I always liked the jumps and Glen Helen is the shortest drive from San Felipe."
Jose Meza Velez made the long trip up from San Felipe, Mexico worthwhile by taking home the win on Sunday
Duncan Racing's Ricardo Gonzalez finished second. He was recovering from foot injuries sustained during the summer break.
Ricardo Gonzalez finished 2nd in the WORCS Pro-Am Class
"I had some foot injuries over summer break, so I came in here to just have some fun," said Gonzalez. "Doug Roll helped me setup my quad, and I finished second."
Maxxis' Justin Waters grabbed the holeshot and led several laps before a cut down tire slowed his charge. His top five was enough for him to win the championship, his second in WORCS competition. This year Waters won four races and earned two additional podiums.
Justin Waters wrapped up the WORCS Pro-Am Championship with a 4th place finish at Glen Helen
"Winning the championship is awesome," said Waters. "I had the holeshot and the lead, but I blew the tabletop jump. I led for several laps, but got a flat and tried to recover from there. I didn't plan on the championship this year. I just came in to see how my results were. It's really cool to come back and that my wife got to be here with me for this championship."
The next race for the WORCS Championship is scheduled for October 21-23 at Buffalo Bills Resort and Casino in Primm, NV.
---