Ridgecrest, CA (7/17/2014) – 417 Motorsports' Josh Row earned his fifth podium finish of the season at round number six of the 2014 WORCS series at Iron Mine MX in Cedar City, UT, taking second place and maintaining second place in the WORCS Pro Championship points race.
This was the first time that Iron Mine MX played host to the WORCS series, and the temperatures reached the 100 degree mark on the track, which meant for some hot, dry, and dusty racer conditions, but Josh Row was determined to take advantage of conditions from his years of off-road desert racing.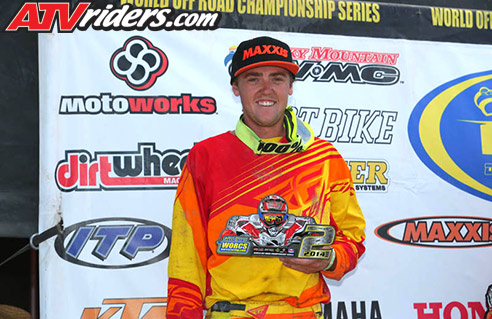 Josh Row earned second at Iron Mine WORCS in the Pro ATV Class
Row got off to a good start and was running fast in the number three spot. "I got a good start off the gate, which I was happy about since it was so dusty. It was a little hard to see in some places, so I just tried to be smart and consistent," said Row.
At the midway point, Row was able to take over the lead when the leaders stopped to pit, but in the next lap, it was Row's turn for a pit stop. "I was out front and I heard Beau Baron right on my grab bar. I put in some solid riding hoping the dust would make him fall back a bit but he stayed close. Then I had to stop to pit and got a little bit of vapor lock, so it took longer than I wanted to get going again and Baron and Dustin Nelson got by me. I just gave it my all and got around Nelson, and I was closing in on Baron, but I ran out of time," Row explained.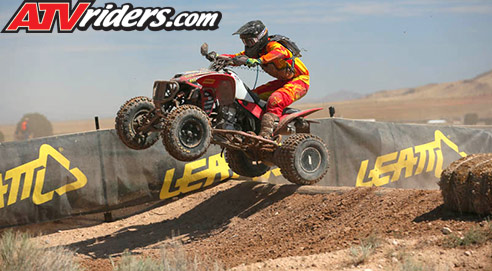 Josh Row took over the lead on lap 7 but fell back to second before the finsh
Josh Row has taken five podium finishes so far this season, with his first win at round four, which has him sitting second in series points with 125 points, only 11 points off of the leader. "I had a great race this weekend, and it felt great to be back up on the podium…This season has gone really good for me, and there are still three rounds left, so anything can happen," said Row.
Josh Row sits second in the WORCS Racing Pro Class
COURTESY OF ATVRiders.com