Can-Am DS450 Racer Jeffrey Rastrelli Wins Pro-Am Class & Third in Pro Class
2014 AMA ATV Motocross
Round 7 – Links
Can-Am DS 450 racer Jeffrey Rastrelli earned his first career Pro class podium by finishing third at round seven of the 2014 Mtn. Dew ATV Motocross National Championship Series held in New York. Rastrelli, also the Pro-Am class winner, and three other Can-Am DS 450 Pros secured four of the top-seven finishing spots in Pro class at Unadilla Motorsports Park in New Berlin, N.Y.
Can-Am DS 450 racer Jeffrey Rastrelli earned a career-best third-place podium finish in the Pro class and notched his second overall win in the Pro-Am class, taking the top podium position at Unadilla
"Can-Am DS 450 racers definitely showed off their talents, winning the fastest qualifier award, grabbing the moto two holeshot and leading a portion of both Pro class motos at Unadilla in New York," said Jeff Leclerc, Racing Project Leader, Can-Am. "Jeffrey Rastrelli continued to impress with a good starts, excellent consistency and a career-best third-place podium finish. To have four racers in the top seven is certainly an accomplishment. They all continue to push hard for the podium and deserve praise for their efforts."
Round seven, the NYCM Insurance Northeastern ATV National, of the AMA-sanctioned Mtn. Dew ATV MX series was held at the fabulous Unadilla Motorsports facility, a natural-terrain motocross course located on the rolling hills outside of New Berlin, N.Y.
For Can-Am, the day started with JB Racing / DWT / Mtn. Dew Live Wire / Can-Am Pro Joel Hetrick earning the ATVriders.com Fastest Qualifier award aboard his DS 450 ATV.
Joel Hetrick took sixth overall in New York, to maintain his current second-place position in the Pro class standings
Jeffrey Rastrelli was in the spotlight all day, as the JB Racing / Cheerwine / Can-Am Pro pulled off two great starts to contend for a spot on the podium. Rastrelli ended up with his first Pro class podium finish, earning third overall at Unadilla. He started the podium chase by grabbing the second spot at the gate drop in the first moto. He later led a lap of that moto before dropping back one spot to take second. In moto two, Rastrelli started fourth and held that spot for much of the race. His 2-5 scorecard was good for third overall and helped him climb to seventh in the class point standings.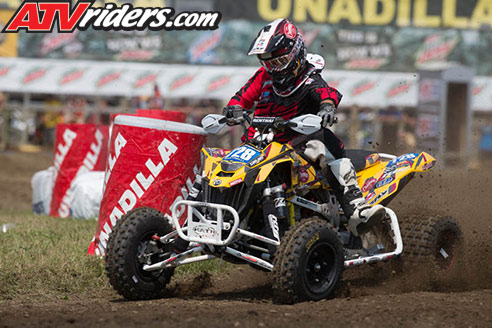 Jeffrey Rastrelli had his best overall weekend of the season, earning two podiums at Unadilla in New York. He's currently seventh in the Pro class points race and second in the Pro-Am title chase just seven points away from the number one spot in points. 
"My Can-Am was running awesome out there. I had good starts and it handled really well. I got on the podium in Pro, which I am really excited about, and I also got the win in Pro-Am on Sunday. I really couldn't ask for a better weekend," said Rastrelli.
BCS Performance / Can-Am DS 450 Pro Josh Creamer also had a good showing at Unadilla, earning fourth overall. He won the SSI Decals Holeshot Award in moto two on his way to a third-place finish. He matched up that finish with an earlier sixth-place run in moto one to tally his fourth, fourth-place finish of the year. Hetrick put together a 4-7 scorecard to end up sixth overall on the day in New York. He holds sole possession of second place in the standings heading into round eight. Ronnie Higgerson, the final Can-Am DS 450 Pro competing in the Pro ranks, finished seventh with a steady 8-8 moto score. Can-Am Pros currently own second, sixth (Creamer), seventh (Rastrelli) and eighth place (Higgerson) in the class standings.
"I had a decent start in the first moto, but somehow I ended up cutting a tire and that kind of set me back a bit in the first moto," said Creamer. "Moto two went great. I grabbed the holeshot and led for several laps. My Can-Am was running great. BCS has done a great job. The quad has so much power and the FOX shocks handled great out there."
Can-Am racers continue their pursuit toward the Pro-Am class championship. Rastrelli notched his second victory of the year with an impressive 1-1 finish to climb to within 7 points of Higgerson, the current Pro-Am class points leader. Higgerson, who saw his string of five straight podium finishes end, finished 15th, but is in the driver's seat with just two rounds remaining. William Lloyd (JB Racing / Cheerwine / Can-Am), who was seventh in the Pro-Am class, recorded his second Open A class win of the year to move into the top three in the point standings.
COURTESY OF ATVRiders.com