Jeffrey Rastrelli Pro ATV Motocross Round 10 Report
Palm City, FL (8/1/2016) – JB Racing's Jeffrey Rastrelli took a hard fought third place overall finish at round ten of the 2016 AMA ATV Motocross National Championship. Racing was held at the rough and challenging RedBud MX in Buchanan, MI.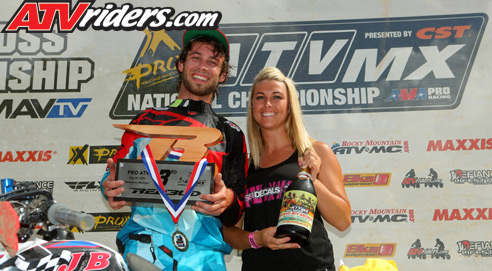 Jeffrey Rastrelli clams back to back Podium finishes at Red Bud MX
In the first moto, Rastrelli was able to take the lead on the sixth lap and battled with the top two riders Joel Hetrick and Chad Wienen. "Joel went down and allowed me to get in the first place position. I just rode hard, but Chad got around me and then Joel caught back up and also got around me. I pushed and didn't let him get too far away, but it was a tough one. The track was really brutal out there, definitely the roughest one we have been on all year," explained Rastrelli.
The second moto Rastrelli was again able to take a third place finish for third overall. "I came out fourth or fifth and made it to third pretty quickly. I was trying to put a dent in their lead, but I just couldn't do it, those guys were on it today."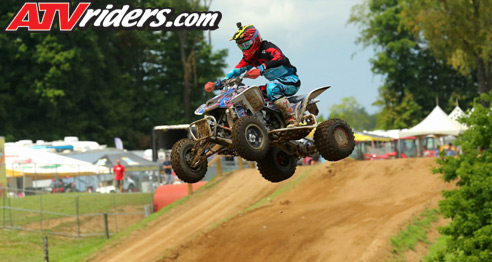 JB Racing's Jeffrey Rastrelli took over the lead in Moto One before finishing in 3rd place
Rastrelli thanks his sponsors for helping him to make his podium appearance. "The JB Racing components, PEP Suspension, Goldspeed Tires, and Baldwin motor were awesome. I am looking forward to progressing and getting better."
This makes Rastrelli's second consecutive podium appearance, and he plans to maintain the consistency throughout the remainder of the season. "It is a nice feeling, it is definitely good being up there twice in a row. Hopefully we can make it four times before the season ends. We are working hard and will keep plugging away to get on the podium."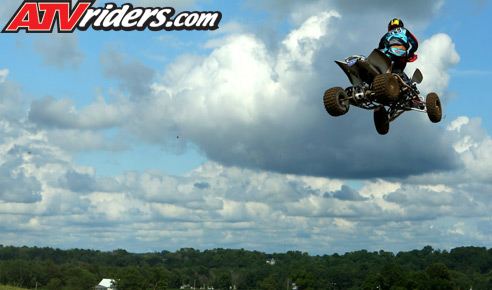 PEP's Jeffrey Rastrelli flying high at Red Bud MX
Heading into the eleventh round Rastrelli sits in third place in the points race and he is hoping to take some wins before the season is over. "I want to get some moto wins. We have been really close the past two races. I just want to go home, work harder, and try to be stronger later in those motos."
Rastrelli will return to the 2016 AMA ATV Pro Motocross National Championship at the eleventh round in Hurricane Mills, TN at Loretta Lynn's Ranch August 13-14.
2016 Jeffrey Rastrelli Sponsors:
JB Racing, SSi Decals, Rastrelli Land Grading, PowerMadd, DP Brakes, Renthal, Blommel Motorsports, DWT, FLY Racing, Precision Racing Products, GUNK, Makson, Four Werx, PEP, Rath Racing, Goldspeed, FORD Brothers Racing, Root River Racing, Baldwin Motorsports, Hinson, Grandma's Original Recipes, Stoops Freightliner Quality Trailer