Race Report brought to you by WWW.ATVRIDERS.COM
Walker Fowler Kicks Off 2017 GNCC Season With Win
Jarrod McClure & Brycen Neal Podium at Big Buck GNCC
Union, SC (3/5/2017) – The 43rd Annual Grand National Cross Country Series (GNCC) presented by Maxxis, an AMA National Championship, kicked off today, March 4, with the VP Racing Fuels Big Buck GNCC in Union, South Carolina. The season opener was greeted with mild, sunny weather, creating ideal race conditions for Walker Fowler to take his first win of the season on his WFR/Yamaha/Maxxis/Fly Racing-backed machine.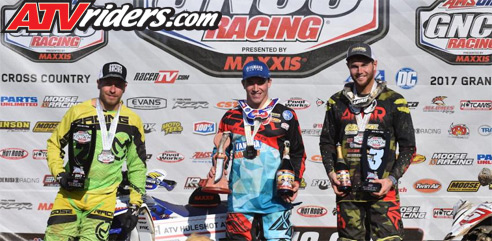 GNCC Racing Pro XC1 ATV Podium (left to right)
Jarrod McClure (2nd), Walker Fowler (1st), Brycen Neal (3rd)
As the green flag waved for the very first race of the season, Fowler wasted no time in making his way to the front as he grabbed the $250 Wiseco XC1 Pro Holeshot Award. N-Fab/AmPro Yamaha's Cole Richardson and JMR/ATVriders.com's Jarrod McClure were right behind Fowler. While they found success, six-time GNCC champion and Chris Borich Racing's Chris Borich was watching the action from the back of the pack.
When they checked through timing and scoring for the first time, Fowler had an incredible 38-second lead over McClure who moved second over Richardson just before the scoring checkpoint. With a clear track, Fowler continued to lead the way while the action heated up behind him.
While McClure continued holding the pace for second, Richardson found himself battling with Borich at the halfway point of the race, and before long Coastal Racing's Brycen Neal found himself in the mix too. As the race wore on, the three continued pushing and slowly gaining on McClure and Fowler.
However, as the seconds ticked away it wasn't enough to make a difference as Fowler stayed in the lead. When the white flag came out, Fowler was almost a minute ahead of his competition. While it seemed like the race was his, he started slowing down and looking down at his quad.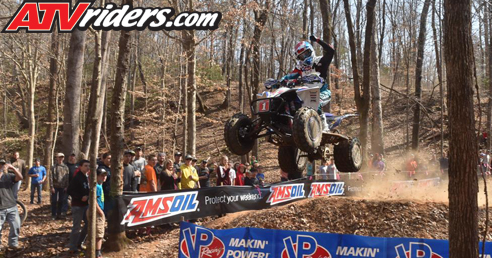 Two-time GNCC Champion, Walker Fowler, started off the 2017 season with another win
"I knew that with the fields a little dusty and they woods tight that it would be hard to pass," said Fowler. "I knew it was important to get out front early and run my own race, so I did just that and put it on cruise control."
The cruise control element allowed Fowler to hold onto the lead on the last lap. Fowler worked through the difficulties to cross the finish line 42 seconds ahead of his closest competition of McClure.
As they raced through the final field section wheel-to-wheel, Neal was just able to squeeze by Borich to take the bronze. A mere eight-hundredths of a second separated the pair as the came across the checkered flag. "I just rode the race, and protected the inside lines. I'm happy with a podium finish and especially with this being the first race," said Neal.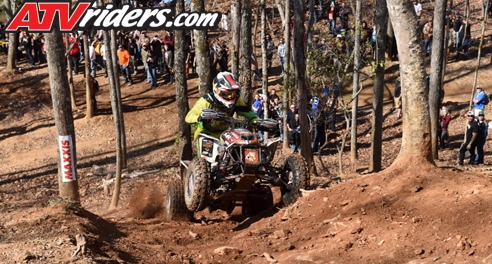 Jarrod McClure's results continue to show he will be a title contender
---
---