Race Report brought to you by WWW.ATVRIDERS.COM
Cody Miller Wins 2nd Straight GNCC Pro 4X4 ATV Race


Hunter Miller Takes First XC2 Pro Sport UTV Win
Greenville, TX (10/5/2016) – Miller Brother's Cody and Hunter Miller both recorded victories in Round 12 of the GNCC Championship at Powerline Park in St. Clairsville, OH. Cody Miller won his second consecutive Pro 4X4 ATV race, while Hunter Miller finished first in the XC2 Pro Sport UTV event. Cody Miller finished second in the XC1 Pro UTV race for his fifth straight podium finish.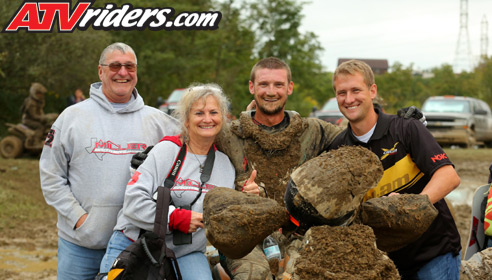 Can-Am's Cody Miller celebrating his win at the Powerline Park GNCC with his family
Cody Miller scored his second consecutive and third victory of the year on his Can-Am Outlander in the Pro 4X4 Class. With slick racing conditions, Miller followed Kevin Cunningham in the early stages of the race before taking the lead for good with just 20 seconds left.
"I didn't really have a terrific race from the start, but I kept charging hard," said Miller. "Kevin Cunningham passed me and then pulled me around for a couple of laps. Here at the very end, I capitalized on lapped traffic. Man, he was flying, but I stayed right on his rear bumper. It's a great feeling to pull off two in a row. It was just so slick out there. I tried to duck in behind the fast guys and found some traction."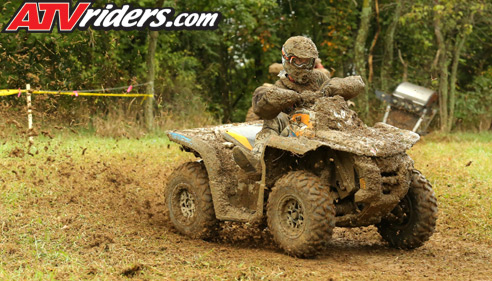 Cody Miller currently sits third in the Pro 4×4 Pro Points heading into the Ironman GNCC season finale
Miller moves up to third in 4X4 Pro points. He now has a legitimate chance to take second in points in just his first year of GNCC competition.
"The Can-Am Outlander was flawless today," added Miller. "The Elka suspension held up great through all of the rough stuff out there. The HMF Exhaust with the Evolution Tuner helped me speed through the field."
In the XC1 Pro UTV, Cody Miller finished second, earning his fifth podium in as many races. He leads the championship by 26 points going into the final round. He ran third for most of the race before grabbing second on the final lap.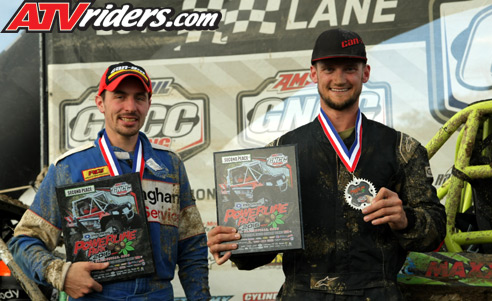 Cody Miller along with his co-pilot Kevin Cunningham finished second in the Pro SxS Class. Cody Miller still holds down the points lead with one round remaining
"It was a hard-fought race for me," said Miller. "On the last lap, a lapper came between me and the second place. So I passed him on the right side and took second. I was just mad I didn't have some more time to work on the leader."
Miller was happy to perform in front of his Ohio-based sponsors Houser Racing and HMF Exhaust.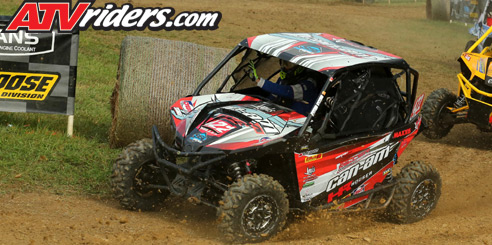 Cody Miller rounds the first cover in his Houser Racing backed Can-Am Maverick
"I was excited to put together a great race for Houser Racing and HMF," added Miller. "Houser's cages and hard parts have helped us have extreme success this year and the HMF exhaust really performs. These are companies that are run by racers for racers so they know how to make the right parts to help us keep our competitive edge. It was also nice to put on a show for mom and dad. They really had a good time watching Hunter and I do so well."
Hunter Miller put together his first victory in the XC2 Pro Sport UTV race. It netted Hunter his second consecutive podium after he finished second in the last race. He started on the second row and then led every lap to earn his first ever GNCC victory.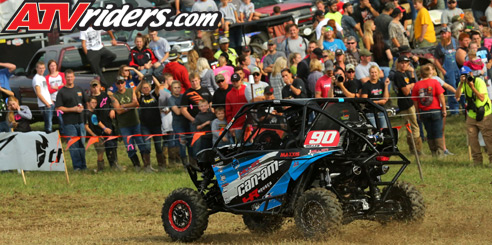 Hunter Miller took top honors in the XC2 Sxs Class by taking the win in his Can-Am Maverick
"I had problems early in the year, so I decided to play in conservative and just try to finish," said Miller. "In the last race, that strategy gave me a second. I came in here with the mindset to push a little harder to try to win. Everyone was having battles with each other, while I had clear track and was able to charge past.
"The Can-Am Maverick was amazing, as always," said Miller. "A lot of people were complaining about how slick the track was, but with our setup…it wasn't an issue for us. The Maverick performed as always. It really shined today."
The Millers will be back in action as the GNCC Series wraps up the 2016 season at Ironman Raceway in Crawfordsville, IN October 29-30.
Miller Racing would like to thank their 2016 sponsors:
Can-Am, DWT Wheels, Houser, Elka Suspension, Beard seats, Louis Powersports, HMF exhaust, Evolution Powersports, Gates belts, S3 Racing, Tire Balls east, DP brakes.
---