Jeremie Warnia:  DWT WHEELS & TIRES
Paul Holmes: DWT WHEELS & TIRES
UK (7/9/2014) – Reigning double British Champion, Paul Holmes returned to riding this past weekend at Round 4 of the ACU British Championship at Stratford upon-avon after not being able to compete due to injuries sustained in an accident earlier in the year. He rode a solid day to come away with 6th overall, an excellent result considering the circumstances.
#1 Paul Holmes made his first appearance this season at round 4 after experiencing an injury right before the season opener
Paul Holmes who dominated the 2012 and 2013 British Championships had a pre-season accident, just days before the opening round of this year's Championship. Holmes broke his collarbone and tore the labrum in his shoulder so severely that it required surgery to plate the collarbone and further surgery to repair his labral tear. Despite doing all he could to speed up his rehabilitation, Paul wasn't able to ride for 14 weeks and only got behind the bars of his quad again earlier last week after the all clear from his surgeon and fitness team. After taking a cautious outing in qualification, Holmes still managed to lap within 1.7 seconds of fellow DWT wheel and tire rider, Frenchman and current European Champion, Jeremie Warnia which showed Holmes hadn't slowed down much, if at all, since his last time racing back in March.
Race 1: A poor start in race 1 left Holmes mid pack around the first turn but after some excellent race craft, Holmes ran a consistent pace throughout the race to finish up in 9th place.
Race 2: With a slightly better start in race 2, Holmes again ran a consistent pace and made some great passing and came home in 7thplace after a few mishaps, with other slower riders costing him time in the middle part of the race.
Race 3: The 3rd and final race of the day saw Holmes round the first corner in the top ten. But, with dusty conditions making it difficult to see, Holmes settled into his own pace and despite badly blistered hands throughout due to the lack of bike time, Holmes came home again in 7th place. However, he did finish 10 seconds closer to the leader than in the previous 2 races showing great improvements throughout the day. Holmes finished up in 6th place overall on the day and managed to finish ahead of 6 of the current top 10 in this year's Championship, laying down a solid base to build upon for the remaining races of this year's Championship.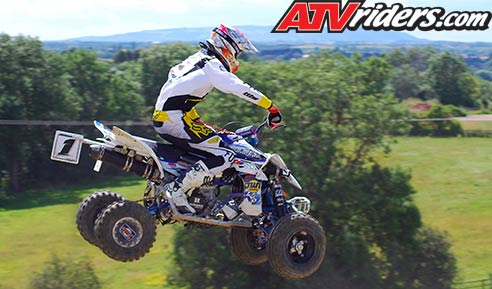 Paul Holmes finished sixth overall at Stratford
Holmes commented after the day's action: "It has been great coming back to racing today, and after so long off the quad I am pleased with the result. I know it will take time for my shoulder to be 100% but it has felt good most of the day and I just need more bike time now to return back to my best and then race again for the wins. I need to say a big thank you to all the team, my family and girlfriend and all my sponsors who have been very supportive throughout my injury and rehabilitation. I must also say thank you to all the help I have had from my physio's, surgeons and to the whole team at the MRT clinic in Stafford who have all played their part in getting me back riding as soon as I have. I look forward to some training now on the quad and hopefully returning to the podium at the next round of the Championship in August.
COURTESY OF ATVRiders.com