Bikeman Performance/rOtation Motorsports Bark River TORC Report
Saint Croix Falls, WI (8/1/2016) – Bikeman Performance / rOtation Motorsports drivers Treavis Poynter and Jason Luburgh were again on top of their game at the TORC UTV race at Bark River International Raceway in Michigan's Upper Peninsula. Luburgh won the both Pro Stock races and Poynter won Saturday's Pro Modified and finished second on Sunday. Both Luburgh and Poynter are now leading the championship points with one race to go in the series.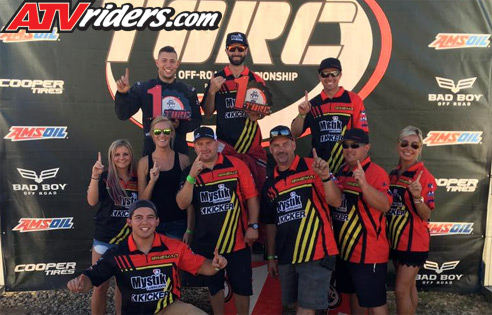 Bikeman / rOtation Motorsports' Jason Luburgh & Treavis Poynter claimed 3 out of the 4 Wins at the Bark River TORC Double Header, which has the pair leading the points heading into the final round
Luburgh started on the third row on Saturday in the 22-car field, took the lead from Bikeman teammate Jordy Reed on the second lap and didn't look back from there in the 10-lap race.
"I got up to second in the second turn and I took the lead on the second lap," explained Luburgh. "I chased Jordy for that first lap, and then I checked out from there. The course was awesome. They shortened it for us a little bit so we didn't have to run that big back section. It was better for spectators and for us. This track reminded me a lot of an ATV motocross track. It got blue grooved in the turns and the track changed throughout the race."
On Sunday, they started the Pro Stock class behind the Pro Modified Class. Luburgh started 12th and quickly moved to the front, actually picking off Modified Class competitors before taking the victory, his third this season. Interestingly, he finished third overall, behind the first and second-place Pro Modified finishers.
"I got through the field quickly and started passing Modified cars," said Luburgh. "By the halfway point, I could see the leaders of the Modified Class. So I finished third overall, which was pretty amazing. The Bikeman Polaris RZR was great. Those guys took it home after the last race and 'put in a diet.' They took out everything they could and shaved 125 lbs off of it. We're going to continue to work on that after this race. We also came up with some more horsepower so it was on point."
Poynter proved he had fully recovered from his hard crash in the last race winning Saturday's race and finishing second on Sunday. It marks his first victory with Bikeman team in a brand new Polaris RZR Turbo built after his first one was destroyed at the last race.
"It felt great, after switching teams and switching manufacturers, to get that big W," said Poynter. "The car was pretty much totaled at ERX, so we were still working on the new car at the track. We fought overheating issues a little bit over the weekend, but the Bikeman RZR is so fast."
The Pro Modified cars were started behind the Pro Stock cars on Saturday. Poynter drove through the entire field to get the class victory and finished second overall just behind Luburgh.
"I had to battle through four Pro Modified cars and 15 Pro Stock cars to get the win," said Poynter. "I am super pumped about this win. It's great for the sponsors and the team. This series is really going to explode and I'm proud to be one of the pioneering drivers."
Poynter backed up his win with a second-place finish Sunday. After started last in the field due to winning on Saturday, Poynter made it second in the second turn field and battled with eventual winner Tim Farr for most of the race.
"I had an awesome battle with Tim Farr," said Poynter. "It was so much fun going door to door and wheel to wheel. Tim is such a smart driver. He knew what line to take. He wasn't as fast, but he knew how to hold me off. It was a blast to have Tim come over from GNCC and put on a good show for the fans."
Poynter is pumped that both he and Luburgh are leading the points. Both hold four-point leads in their respective classes.
"Our goal this year is to be the first Pro Stock and Pro Modified Champions in TORC history," said Poynter. "We're going to keep driving like we have been. The cars are working great. So we should wrap up a championships at Crandon."
The Bikeman Performance/rOtation Motorsports team will finish up its 2016 TORC season at the finale September 2-4 in Crandon, WI. That race will feature one points round, as well as a special, non-points World Championship race on Sunday.
---