For 2016, Yamaha did a virtual redesign of their Grizzly 700. A two-inch increase in width in the past few years in combination with new suspension settings, updated ergonomics, and a new, more powerful engine yield a somewhat familiar, yet totally improved, machine.
If you have an older Grizzly 700 like our relatively pristine 2010 model, there are many things that can be done to bring its performance up to 2016 standards and beyond. With so many of these machines out there, we decided to build a generation 1 Grizzly that can play harder out on the trail while providing a higher level of comfort and control. If you own a Grizzly 550, nearly all of these upgrades will work for you as well.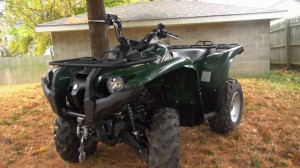 Of course, if you're the owner of a well-worn, older Grizzly, trading up to a new machine will definitely be the most cost-effective way to go, and the improvements to the 2016 model provide a good amount of incentive to do so. This project is best suited for older Grizzlys in very good shape that may already have a few add-ons, and could benefit from a few more.
From the Ground up
In 2014, Yamaha widened the Grizzly's track 2". For 2016, they went from a 25" to a 26" tire. To add some width and stability to our Grizzly, we ditched the stock 5+1 and 5 ½+2" offset 12" steel wheels for a set of 4+3 " offset, 12" DWT Stealth Wheels adding around 2" of width to the machine. The Stealth Wheels are made in the USA of cast aluminum, heat-treated for enhanced strength. They feature a machined black finish and molded-in center cap providing a clean, refined appearance. Their machined center provides the same striking look as the billet center on DWT's 3-piece Sector beadlock wheels, at a much more affordable price. The Stealth Wheels weigh a bit more than DWT's proven, simple looking Ultimate Sport Wheels. However, their added weight comes with enhanced strength and appearance.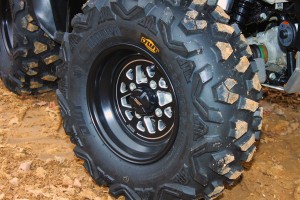 Like Yamaha, we too switched from a 25" to a 26" tire for a smoother ride over bumps. The DWT Stealth Wheels were wrapped in a set of 26×9-12 front and 26×11-12 rear DWT Moapa tires. The Moapas feature a wide contact patch and aggressive tread pattern designed to work in a variety of conditions, which we typically encounter on any given trail ride. Their tread wraps around the sidewalls to enhance puncture resistance, and improve traction in deep ruts. As premium tires go, they are most comparable to the Maxxis Bighorn, but with a slightly different and more open tread pattern that appears a bit more focused on delivering side bite.
The Moapa's six-ply construction offer enhanced durability over most OE tires. While tires with radial construction often offer a superior ride, they are also typically heavier and more expensive. The Moapa's bias-ply design makes them around two to four pounds lighter per tire than other comparable tires featuring radial construction. Saving 10 or 12 pounds of unsprung, rotating mass makes a big deal in handling and acceleration on an ATV. We also found them to be considerably less expensive than similar use, premium brand, radial tires.
….MUCH MORE AHEAD in the FULL STORY at ATVONDEMAND.COM