---
While there are several companies that offer aftermarket ATV wheels, there are few, if any, that have such an extensive history and dedication to their craft as that of Douglas Wheel Technologies (DWT).
Doug Henline founded Douglas Wheel back in 1991, but his racing roots extend far deeper, with a fascination in racing that began with electric slot car racing back when he was still in grade school. "I had gotten a go-kart shortly before getting my license. I remember begging my parents to take me to the track so I could race," recalled Henline, who won his first championship in 1969. Back then, racing was just for fun, until Doug got his driver's license. "Then I started racing hot and heavy," he said. Due to a lack of quality parts that were available at the time, Henline began making his own exhaust pipes and complete chassis' in his parent's garage for his own personal use. Henline's efforts proved successful. "We won three national championships running the products that I made," said Doug, who was also the Chief engine builder for Ruskin Manufacturing who had him on retainer through high school.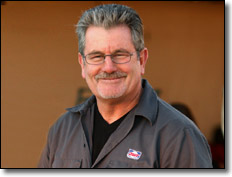 DWT's Founder & President, Doug Henline, has spent nearly his entire life dedicated to racing & it shows in his racing wheel development.
After graduating high school, Doug was offered a full scholarship to become an industrial arts teacher but opted to work with the City of Los Angeles in an apprenticeship to develop his industrial skills, since the idea of teaching just didn't seem to sit well with Henline. "I wanted to make things, not teach people to make things," he said adamantly. It was that drive to create that prompted Henline to start his first company called Pro Line, which he formed shortly after his apprenticeship.
The Pro Line company started out in 1983 producing racing chassis' and wheels for go karts but soon grew into developing full racing karts and went on to win 40 national championships. "Pro Line is where I got a good understanding of working on different set ups and packages of tires and wheels.
Along the way, Henline hooked up with friend and fellow go-kart enthusiast, Mitchell and began to develop go-kart wheels with him. Unfortunately, Mitchell was paralyzed in a desert accident soon after and was forced to sell his company. Henline saw an opportunity amid the tragedy. "I ended up buying all of the equipment from Mitchell, but I didn't buy his company name," said Doug. It was with the purchase of that equipment that Henline started Douglas Wheel in 1991.
"Wheels were pretty rough back then, so we went in and carved out all of the products that we didn't like. We scrapped a lot, modified a lot, and redesigned a lot of it," said Henline recalling the difficult task of starting the company. It was within that transition period that 4 wheelers were really starting to catch on. Seeing the potential of the sport, Henline and Douglas Wheel got to work and came to market with innovative rims that featured a front and rear beadlock design. "We won the "Innovative Product of The Year" award for our beadlock rims," said Henline proudly.

DWT's ATV & SxS aluminum wheels are just one of many segments for DWT as they also produce wheels for karts , stock cars, sprint cars, off-road buggies, golf karts
A lot has changed over the years since Douglas Wheel put out their first sets of beadlock rims. The company now boasts a new name, which Henline feels is a more accurate description. "Douglas Wheel Technology or DWT," said Doug. "It seems more fitting since we have increased our technology and adapted to the technology that the OEM's are using in their ATV applications."
That technology has become very apparent in DWT's newest wheels the Alumilite G2 and the Litecast wheels. The G2 wheels front & rear combination is around 5 pounds lighter than DWT's original wheels, thanks to a new hardware kit and a new innovative design. The new G2 Ultimate rear wheel design is noticeably different as the inside bell shape of the wheel is gone, which also helps to reduce weight. The G2 also includes a shot peened wheel ring for improved fatigue resistance. New mud plugs are also available for the G2 wheels. A better, more secure fit helps to keep them intact and keep wheels free of mud.
DWT's Ultimate G2 rear ATV beadlock wheel features a new hardwear wear kit to lighten up the wheel, yet it is stronger. A big advantage now is that the nut plates are now riveted to the back off the wheel for improved effeciency when installing or removing the beadlock ring. Also, bell shape has been removed from the inside part of the wheel on the G2 Ultimate (above left), which reduces weight. Also, a stronger, yet lighter shot peened metal ring is utlized, and these wheels come with a newly designed mud guard
The Litecast wheels are also lightweight and durable but are designed more for a cosmetic approach. Like all of DWT's products, the G2 went through massive amounts of testing, including the abuse of a full race season at the hand of National ATV Motocross Champion, Dustin Wimmer. "We have always been directly involved with the racers and race teams and because of our racing heritage, we have always supported that side of the industry. When we first got started, the emphasis used to be on strength and what would get to the finish line not the weight, now things are changing," explained Henline.
The company's involvement in racing has also led to some very stringent R&D and testing regulations for all of their products. "We've added in-house drop tests and fatigue tests and all sorts of R&D and tools to continually improve our products. We even test everybody else's products. In fact, we might know more about their products than they do," Doug said with a chuckle.
Although DWT got it's start in a modest 20,000 sq. ft. warehouse in Oceanside, CA, they are now located in an impressive 60,000 sq. ft. purpose-built facility in Vista, CA where they create their wheels with state of the art machinery. The vastness of the facility indicates that DWT is serious in its commitment to putting out the best wheels on the market.
How DWT wheels are made –
We start out with a square sheet and punch a hole in the center. The sheet then goes into the cutter where it is made into a round sheet. Then the sheet is then put into the spinner where it is formed into a wheel.
| | |
| --- | --- |
| | |
| Spun aluminum ATV wheels begin life as a flat piece of aluminum, which is spun & shaped into a bell shape for each half of the wheel. Then each half of the wheel goes through heat treating to increase it strength | Spun aluminum ATV wheel halves are then robotically welded together. Once they are welded some are leak tested before the wheel is polished or powder coated & prepared to ship out to the dealers |
The spinning process only takes a few minutes and once the wheels come out of the spinner, they are very hot and have to be cooled. Next they are sent on for punching and racking, where they await the welding process. Once the front and back side of the rim are welded together and cleaned of any slag, the wheels are then sent on for a final polishing process, finishes, and application of stickers.
The finished DWT Aluminum wheels are packaged & crated for shipping
Even though DWT is very strong globally as a company, Doug Henline admits that the Nation's recent economic trouble has had an impact on DWT but emphasizes that they have taken measures to ensure that the company is stable and able to weather the storm. "The U.S. is the largest market for ATV's, but sales have plateaued and even dropped off in some cases so there is a lot of inventory and most companies. DWT is a well-grounded company with no debt behind us, which helps us to take steps in order to stay strong in this economy. Another thing that is helping to keep DWT going is the recent popularity of UTV's. "We have always provided products for UTV's, but now that they are becoming more and more popular in racing, we have seen a big increase in the need for aftermarket wheels for those machines, and it has definitely added a boost in sales for us," stated Henline.
Henline also has a positive outlook when it comes to the company's future and has his goals laid out for the next few years. "You will see lots of exciting new products in next couple of years. We will also be doing a lot of maintenance to our core products and making improvements there as well," Doug concluded.
Even in these tough financial times that have recently bared witness to the demise of other aftermarket companies, DWT remains a leader in the aftermarket wheel industry and it appears they will maintain that leadership role for many years with their new technology and what seems to be endless innovation behind their products.
---
Citing Sources:[http://www.atvriders.com/articles/dwt-2009-atv-sxs-racing-wheel-diablo-g2-alumilite-company-tour.html][Feb. 12, 2009]